Paint the Roses — Northstar Games: A Review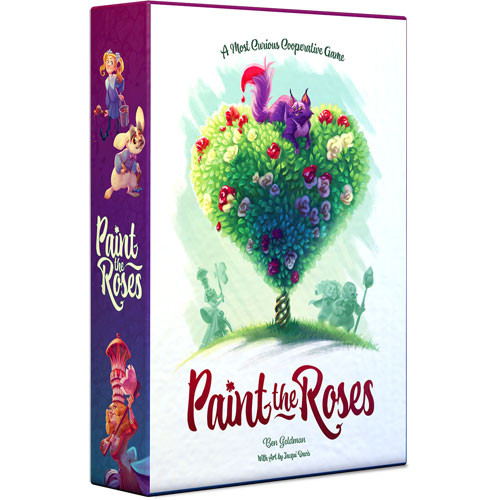 From BGG:
2-5 Players (Best: 3-5)
50-70 Minutes (Our Experience: 30 Minutes at 3 Players)
Weight: 2.40/5
Rating: 7.7 (Our Rating 8)
Deluxe Edition includes (above and beyond the base game:
Escape the Castle Expansion and Modules
Deluxe Tiles and Components
GameTrayz Organizer
Catapillar Exclusive Module
Highlights:
Cooperative
Tile Placement
Deduction & Guessing
Light to Medium Strategy
High Replayability
Components: 10/10
Note: This is a review for the deluxe components–the base game components may vary in quality.
The components in this game are awesome. They have a great tactile weight, they fit together nicely on the tile grid, and they are durable and fun to play with. The art is whimsical and feels very thematic to "Alice in Wonderland". Two big games came out this month with this theme, and the art in this version separates it from "Wonderland's War" well.
Mechanics: 7/10
The game is very smooth and clean and, if you're careful, requires very little guesswork. After a few games, we began to understand how the Queen's speed increasing really works and strategize on our cards early on. Its a tough puzzle to solve, because not only are you solving the puzzles (with dire consequences if you get one wrong), you also have to manage the puzzle of the game itself and outwit the queen as you travel along the garden chasing the white rabbit. There are a few instances where the game feels slightly unbalanced, but overall its a very well tested game. We have yet to try the Escape the Castle variants and modules which further increase the variability of the game.
Experience: 8/10
This game is very fun–immediately after our first loss we had to play again. We ended up playing 4 times in our first evening with this game with 2 wins and 2 losses (although one of our wins had an accidental cheat). This game is easy to set up and fast paced–an easy winner for weeknights when energy is low but you want to play a game.
Overall: 8/10
Overall we loved this game and imagine we'll play it regularly. It's a great addition to anyone's collection. Some people say not to play this game with only 2 players, but we find the 2 player variant to be quite enjoyable in a similar way that codenames duet is enjoyable.
There are several "how to plays" on YouTube, but the rules are very straightforward.
This game is currently in retail.