Fantasy Flight Game's Latest Masterpiece
*Our goal is to write without spoilers for story driven/campaign games. That being said there may be mild spoilers ahead. Our game is played at 2 player count
I think its easy to guess how we feel about this game based on our heading, but I wanted to take sometime to delve into this app-required, dungeon crawling, campaign.
This version of Descent has the advantage of standing on the shoulders of giants in a few respects. The previous title (which was not app-required) is a beloved game of all vs 1 in a dark fantasy setting. This game's popularity and current BGG rank: (Overall: 135; Thematic: 44) speaks for itself. Not only that but this edition stands on app-driven giants like Mansions of Madness 2nd edition, and Lord of the Rings: Journey's in Middle Earth. Mansions of Madness is one of our favorite, and most played games so we were already aware of FFGs app set up and requirements. This game's application system is leaps and bounds above Lord of the Rings, and improves vastly on the great immersion of Mansions of Madness. Lastly, this game stands on the shoulders of the titan that is Gloomhaven when it comes to long campaign fantasy gaming. As of writing, Gloomhaven still sits at the number one spot on BGG.
Descent also starts out with a rocky foundation. Months before its release, it was slammed with many negative reviews–most of which were by people who haven't seen or played the game. Some rated it low due to the app requirements, some were upset it wasn't just a "Descent 3rd Edition", and others were, like many hobbies and fandoms, simply toxic people reveling in railing against something. That being said, it has risen the BGG boards and has a higher rating by users (8/10) than its predecessor (7.9/10) at the time of writing this. It also sits on BGG at Overall: 814, and Thematic: 125.
Let's talk about the game itself. The box is huge, and will likely take most of one of your Kallax shelves by itself. What's the box filled with? Some of the best miniatures I've even seen in a boardgame–2 cases of them, tons of dice and a cardboard-y lego building project of 3D terrain (super fun if you like building things like I do). There's even room in the box to store everything–which is a huge kudos to FFG who usually is very lack luster at the built in storage (looking at you Mansions, Eldritch Horror, Arkham Horror–you get the idea).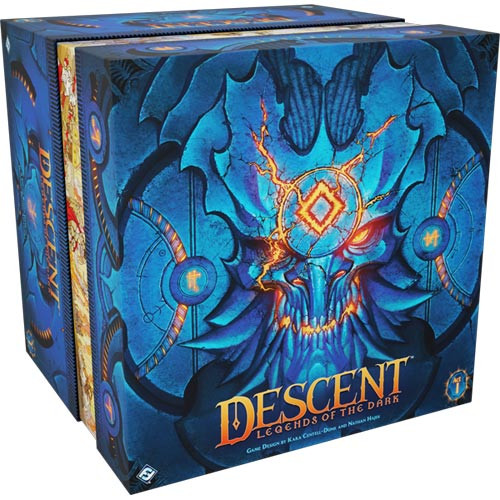 I love the way FFG does their rule books. There's a simple "learn to play" included followed by a full rulebook. This allows you to get started quickly.
The app is also the best that FFG has put out. It works well, the ambient music is on point, and the immersion into the story is amazing.
Let's talk about gameplay. You take on one of the motley crew of heroes (4 with a growing roster of 6 to choose from). Some missions require certain heroes, while others don't, but you'll develop your favorites. Will you choose the archer Galaden who is also a dual wielder, or the thieving cat person Chance? You have a deck of cards, some items, and your hero card. You can do a certain number of actions a turn including moving, looting, searching, fighting, etc. Like mansions, there is a small amount of luck with dice rolling (we use our super cool 3d printed dice tower).
But the dice rolls can be mitigated in many ways including by "fatiguing" your cards which is a cool new mechanic to build up uses, and unfortunately eat some of your turn if you need to "flip" your card. This also helps you alternate between your melee and ranged weapons.
You're given a quest goal and timeline similar to Lord of the Rings Journey's in Middle Earth and it changes throughout the adventure.
This game may be for you if:
You love fantasy games, story-telling games, campaign games, or coop games
You love well produced thematic games
You love a long gameplay time 2-3 hours per adventure
You like app assisted or app required games.
You're a fan of Gloomhaven, Lord of the Rings Journeys in Middle Earth, Mansions of Madness, Jaws of the Lion, or similar games
This game may not be for you if:
You do not like using apps for gameplay
You don't like long gameplay times
You don't like to play cooperatively
You don't like the theming.
I also find it helpful to compare this game to others in terms of similar mechanics, themes, or selling points. So here is our first This or That. Note: this is all subjective and I'm sure could be argued in favor of the other choice in most cases. In this case we'll compare Descent to the two games that come to mind most for us when we think of it: Gloomhaven, and Mansions of Madness.
The App: Descent does it better than Mansions of Madness
Story: Descent does it better than Gloomhaven
Uniqueness of Characters: Gloomhaven does it better than Descent
Gameplay: Descent is a smoother gameplay experience than Gloomhaven, however Gloomhaven is a more challenging puzzle.
Cooperation: This game requires cooperation, but Mansions of Madness does the coop experience better as each decision feels a lot more significant for that scenario.
Plays best at 2 players: Tie between all of them. It is also possible to multi-hand for any of the 3 games to enjoy more characters.
Where can I purchase this game?
Thanks for reading. Let me know what game you want us to review next.